How-to: Print an entire Excel workbook to a single PDF
We've updated an article from our Knowledgebase, that explains how you can print an entire Excel workbook to a single PDF file with novaPDF. You can read the updated article here: How to print an entire Excel workbook to a single PDF file
---
When you try to create a PDF with novaPDF and choose to print the Entire Workbook from Microsoft Excel, each sheet will be saved as a different PDF file. While there are some situations when this is exactly what you want, most likely you'll want to have all sheets from that workbook printed in a single PDF.
If you try to print an entire workbook as a single PDF and you get individual files, it happens because one (or multiple) sheets in your workbook have a different dpi setting for printing. Because of this, Excel assumes that each individual sheet has to be sent for printing separately, so it will send it in the same way to the PDF printer which will prompt to create a PDF from each sheet.
In order to have all the individual sheets printed within a single PDF file (not multiple PDFs) you need to set the same DPI printing value for all of them.
The easiest method is to select all sheets and change their DPI printing settings. This works only if you have the same printing settings for each sheet in the workbook.
However, if you have different printing settings for each page (for instance if you have a Header/Footer set for each page), you will need to change the DPI printing settings for each page individually.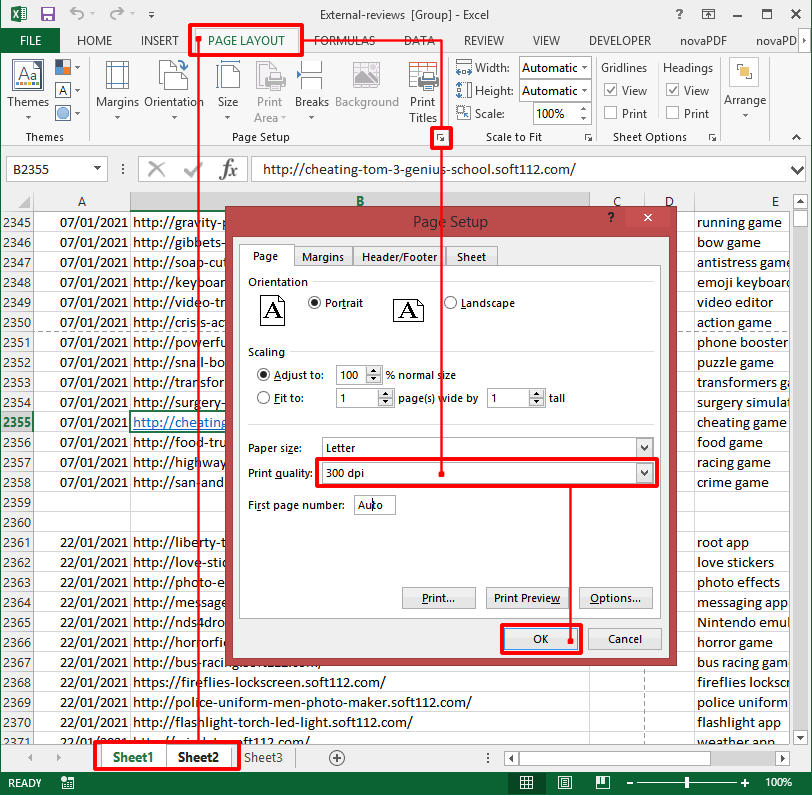 After you've modified the print quality settings for all sheets, simply go to File-Print and select novaPDF from the list of available printers. This will generate a single PDF file from the entire workbook when you click on Print.
---
This is a summary of the full article we've recently updated. For a detailed explanation regarding how you can print an entire Excel workbook to a single PDF file with novaPDF, you have to read the full article in our Knowledgebase: How to print an entire Excel workbook to a single PDF file