Why you should convert documents to PDFs
PDF is an acronym for Portable Document Format. It is a file format that captures all the elements of a printed document as an electronic image that you can view, navigate, print, or forward to someone else. PDFs are created using PDF creators.
There are several reasons why you should convert your documents to PDF:
To preserve the formatting of your document: When you convert a document to PDF, it retains its original formatting and layout. This is important if you want to keep the look and feel of your document intact.
To make your document smaller: Converting your document to PDF can often reduce its size by up to 70%. This can be helpful if you need to email your document or save it on a USB drive.
To add security features: You can password-protect your PDFs and add other security features that will help protect your information from being accessed without permission.
To ensure compatibility: By converting your document to PDF, you can be sure that anyone who tries to open it will have the right software installed on their computer.
With novaPDF you can easily convert your existing documents into PDFs
novaPDF is a PDF creator for Windows that allows you to easily create professional quality documents in industry-standard PDF file format. With novaPDF, you can create PDF files from any printable document, such as a Word document, Excel spreadsheet, PowerPoint presentation or website.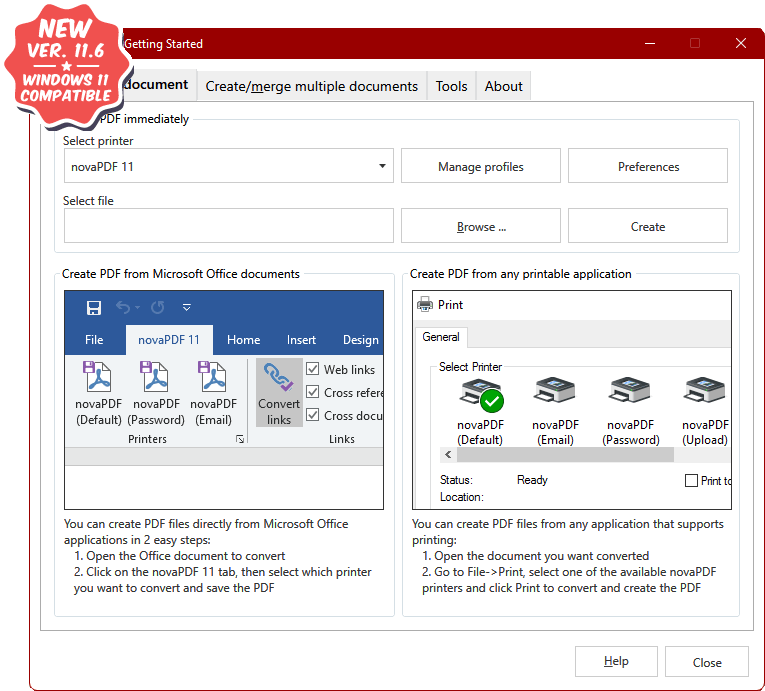 Creating PDF files with novaPDF is simple and straightforward. Just open the document you want to convert, click Print and select novaPDF as your printer. Then just choose the desired output options and click OK. Your PDF file will be created instantly!
novaPDF offers many features that make it the ideal tool for creating professional quality PDF documents. For example, you can password protect your PDF files to prevent unauthorized access, add watermarks or Bates numbering for legal purposes, embed fonts to ensure text display correctly on all devices, and much more.
If you need to share your PDF documents with others but don't want them to be able to edit or print them, novaPDF also lets you create read-only or password protected files. This way you can rest assured that your confidential information is safe and secure.
So if you're looking for an easy way to create high quality PDF files, look no further than novaPDF! You can download it here: Download novaPDF