[Expired] Giveaway: Emsisoft Internet Security 2012
Update: We've picked the 10 lucky winners: Francois Nadeau (entry no. 1490), Mega Byte (entry no. 1687), ethem gediz (entry no. 819), conte br (entry no. 2235), evren uygar (entry no. 337), Ishan Jalan (entry no. 1856), Heru Widiyanto (entry no. 2362), Peter Warezow (entry no. 2660), Pascal Thiebaud (entry no. 2325) and cemal bengi (entry no. 566). We've already contacted them, if you're on this list and haven't received an email yet please contact us directly at [email protected] to receive your key. In case we can't get in touch with one of the winners after several attempts, we will pick reserves and select another winner.
You can see a video of how we selected the winners here:

Halloween is right around the corner and we thought what a better way to celebrate this than by organizing a new giveaway, this time for Emsisoft Internet Security. If candy can protect you in the real world from the monsters knocking at your door, on your computer that won't help, you need a full protection suite and that's what EIS offers.
Their internet security suite actually consists of two programs, Emsisoft Anti-Malware and Emsisoft Online Armor Firewall – we have 10 licenses for each, so each luck winner will receive one license for Anti-Malware and another for Firewall. Think of the EIS as a bundle and we have 10 licenses for the bundle.  We'll send an email to each winner but also announce it on the blog, so be sure to subscribe to our RSS feed to receive notifications. Giveaway rules are the same as with previous promotions, everyone can join for free:
Each of the 10 licenses is valid for 1 year and can be installed on 1 PC
The winners will have the same benefits as a regular paying customer
The giveaway begins now and ends on Wednesday, November 7, 2012
The winners will be selected randomly and contacted via email (if the winner doesn't reply in 5 working days after receiving the notification email, we reserve the right to select someone else from the reserves)
All you have to do to participate is sign-up for the giveaway using the widget below:
We're also running a giveaway for Norton Internet Security on Backup4all's blog, check it out too if you are interested: NIS 2012 Giveaway.
About Emsisoft Internet Security
Emsisoft Internet Security Pack is an all in one protection solution offered by Emsisoft and represents a great alternative to classic security suites present on the market today. The pack consists basically of an Anti-Malware and Online Armor Firewall. Emsisoft Internet Security has won numerous awards including the VB100 award from Virus Bulletin and first place and High+ award in the virusofnet (www.comss.ru) comparison from February 2012.
These are some features of Emsisoft Internet Security:

The Anti-Malware module includes comprehensive Antivirus, Anti-Trojan, Anti-Spyware and Anti-Bot protection against any threats over the internet (viruses, trojans, spyware, adware, worms, bots, keyloggers and rootkits).
Two combined scanners are included for cleaning – Anti-Virus (Ikarus engine) + Anti-Malware (Emsisoft engine).
Three guards are active against threats – file guard, behavior blocker and surf protection.
Three ways of malware removal to efficiently clean every infection.
Daily updates – these are installed several times a day without the user needing to intervene in any way.
Behavior based malware protection – if a program behaves suspiciously in any way, it is blocked before having the chance to do any damage.
Default settings efficiency – users do not need to make any adjustments to the program before using it on the computer. The default settings are intended to be used by the majority of users.
Available Extras include HiJackFree and Commandline Scanner for advanced users and professionals.
The Firewall includes Keylogger protection, DNS-Spoofing protection, Autostart control and contains three operation modes: standard mode (easy to be managed by any user), expert mode (options for experienced users) and banking mode (secured online banking transactions).
All the data transferred from and to the computer is monitored for malware activity. Only allowed programs and system activities are allowed.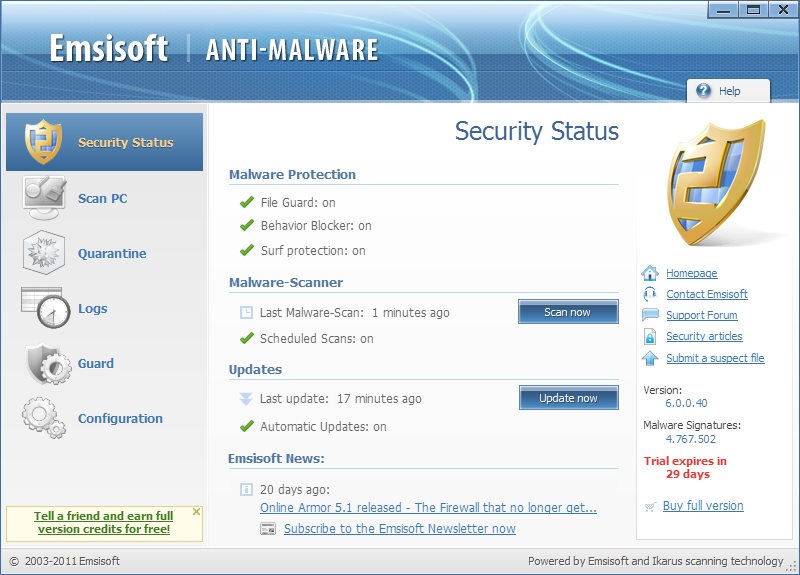 Resource wise, Emsisoft recommends a minimum of 250 MB of RAM for the Anti-Malware and 50 MB of RAM for the firewall for a Windows XP powered machine. We have successfully installed and tested it on a Windows 7 Virtual Machine with 1 Gb of RAM so Emsisoft Internet Security is smooth on the resources when running.