[Expired] Giveaway: 5 licenses for System Mechanic Professional
Update: The giveaway ended and we have sent the license codes to the 5 winners (their names are mentioned below in the giveaway widget). You can still get System Mechanic Pro with a 40% discount, all you have to do is visit their cart page through the following link: System Mechanic Pro (40% discount)
iolo technologies, the company that develops the popular all-in-one PC tune-up program System Mechanic Pro, agreed to provide us 5 licenses for their professional version to organize a giveaway for our readers. Don't know if your system needs a PC tune-up program? Download their System CheckUp tool that will allow you to scan your system and see if you have issues that need to be fixed (you'll be able to fix those with System Mechanic if you're one of the winners).
The rules to participate in this giveaway are simple, as with the previously organized contests:
The winners will have the same benefits as a regular paying customers, each of the 5 licenses comes with a 1 year service (but you can continue to use the program after 1 year too, just without receiving updates)
The contest begins today, May 7, 2013 and ends on May 14, 2013
The winners will be selected randomly and the licenses will be sent via email, so it is important to use a valid e-mail address
No cheating (i.e. don't use multiple accounts to sign-up for the same giveaway).
After the contest finishes, the winners will be announces on the blog too, so it's recommended to subscribe to our RSS feed to receive instant notifications. Sign-up for the giveaway using the widget below:
About System Mechanic Pro
System Mechanic Professional® is an all-in-one suite of award-winning performance optimization and security tools that keeps computers at peak operating condition. In addition to System Mechanic, System Mechanic Pro includes DriveScrubber, Search and Recover, System Shield and Online Backup. It scans your computer and will help optimize it by accelerating startup/internet speed, cleaning unnecessary files (junk, unwanted history
), diagnoses and fixes problems and blocks dangerous programs. These are the main features of System Mechanic Pro:
System Shield AntiVirus & AntiSpyware. System Mechanic includes an antivirus/antispyware scanner that protects your computer against over 2 million different threats. It offers unobtrusive protection by using low memory and CPU resources while offering continuous protection.
Recommendations. With System Mechanic you gain access to a guided recommendations, a computer check-up online solution based on the knowledgebase gathered from the 15+ years of business and collective community tips.
NetBooster. This utility will help your computer optimize its Internet connection and improve the speed of downloads, online games or streamed videos.
ActiveCare. A patented technology which uses your computer idle time to optimize it releasing the resources when the computer is being used. A true set-and-forget option to optimize your PC.
Registry Revitalizer. With this utility your system's registry will be scanned and problems fixed automatically. Fixing registry issues improves the stability of your operating system.
AcceleWrite. System Mechanic will reduce the random writing of data on hard drives (both traditional and solid-state drives) and thus increase the performance of your system (plus your drives won't need defragmentation).
PC Cleanup. Clean up your computer by removing over 50 types of junk files.
Program Accelerator. Re-aligns disjointed program files.
EnergyBooster. This utility is ideal for gamers as it will free up your memory and CPU resources thus allowing the operating system to focus more resources on the task it currently performs.
CRUDD Remover. Duplicate programs that overload your system will be removed using this tool (commonly redundant or unnecessary decelerators and destabilizers) as well as programs that came pre-installed with your system and never got used.
Startup Optimizer. Your computer will be optimized to start faster by removing unnecessary programs set to start automatically when your system starts.
Privacy Cleaner. Sensitive information can be securely wiped using the privacy cleaner tool. It will wipe internet and chat history, browser cache and other stored tracking information.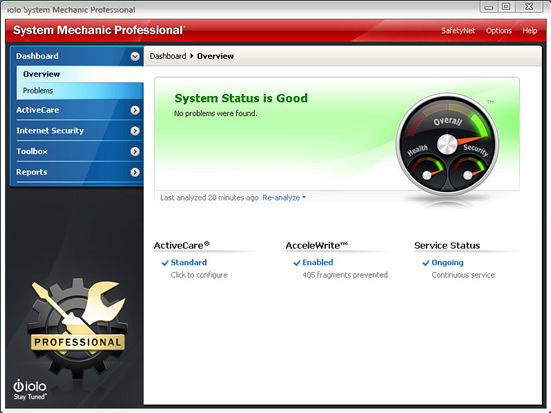 About iolo technologies
Founded in 1998, iolo technologies, LLC (www.iolo.com) innovates patented technology and award-winning software that repairs, optimizes, and protects computers and digital devices. The company is headquartered in Los Angeles with global sales presence in 33 countries and products in 11 languages. Since 1998 tens of millions of people have used iolo's products for their PC optimization, security, and data recovery needs. Today iolo is widely recognized by both consumers and industry experts as a worldwide leader in the system utility software market.
The company's product line, distinguished by its flagship performance optimization suite System Mechanic®, maintains a reputation of first-to-market technology and differentiated effectiveness. iolo's products are carried in more than 23,000 retail storefronts around the world, including Wal-Mart, Best Buy, Costco, Target, Staples, and Office Depot, and its software can also be purchased from all major e-tailers, as well as a multitude of distributors and resellers in the U.S. and abroad.
iolo's vision is to produce powerful, effective, and sophisticated software that is approachable by both novices and experts, enabling them to enjoy full computing potential by keeping devices running fast, stable, and problem-free. With a significant and growing patent portfolio and ongoing focus on R&D-driven product development, iolo is well positioned to both maintain and grow both its technological and market leadership position.
Have you tried System Mechanic Pro before or are currently using it? If so please share your opinion with the other readers and don't forget to recommend the giveaway to your friends (your odds at winning increase based on additional action that you take). Good luck everyone!
P.S. There's currently several coupons available to buy System Mechanic Pro, so if you don't want to wait until the contest finishes or feel unlucky you can get it for $20 off here: System Mechanic Pro with discount