Get a discount for subscribing to our newsletter
For a limited time only, we are offering a discount for users that sign-up to receive the novaPDF newsletter. If you'd like to receive a 5% discount for any new licenses of novaPDF, simply visit our newsletter page and subscribe – the discount will be delivered instantly to your mailbox:
Subscribe and get the discount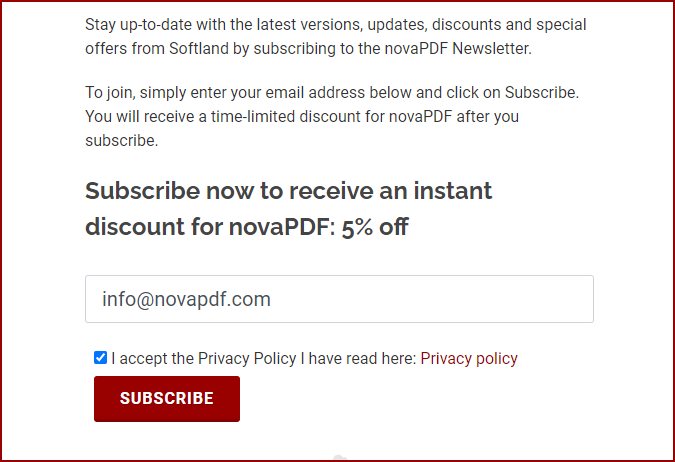 Why should you subscribe?
Here are a few reasons why you should subscribe to the newsletter:
You get an instant discount
You'll stay up-to-date with the latest versions, updates, discounts and special offers about novaPDF
We send at most 1 newsletter per month
We never share your email with anyone else, we use it just to send you the newsletter
Don't want to receive emails from us?
If you do not want to be notified via email when we release new versions or have special promotions, you can instead follow us via our social channels to stay updated. We regularly post via our social channels when we release new versions or we have special promotions running:
P.S. And yes, we do offer the discount for those that follow our social networks. Just send us a message via that particular social network and we'll send you back a coupon.