Become an official reseller of novaPDF
novaPDF can be bought directly from our site via our ecommerce providers (i.e. 2Checkout, PayproGlobal) that are available worldwide. However, there are situations when clients want to buy from a local reseller, and for that reason we have a Reseller partnership program in place.
If you are a reseller for other software but not yet for novaPDF, you can sign up to sell our products very easy using the Sign-up as a Reseller page. You will be able to buy licenses with a 20% discount to resell to your customers.
Furthermore, we've recently launched a portal where we list authorized/official resellers. You can find authorized novaPDF resellers filtered by country here: Official novaPDF resellers.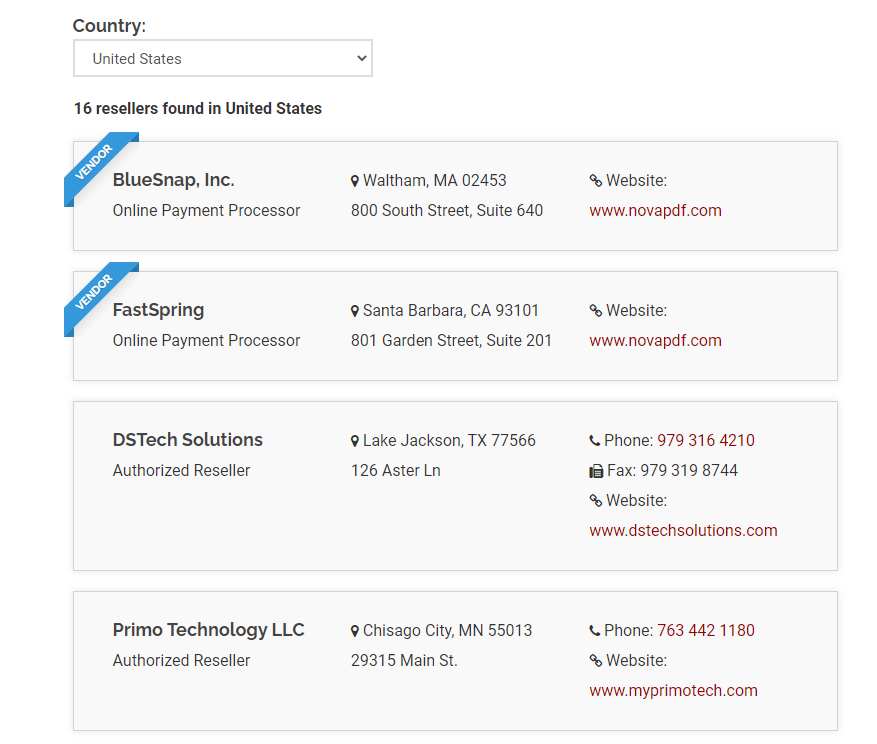 We have close to 100 authorized resellers listed there, but there's always place for more! If you want to be listed as an official reseller on our portal, here's what you need to do:
Go to https://www.novapdf.com/myaccount.account.html and login. If you don't have a reseller account yet, you'll need to sign-up for one first using the link mentioned previously.
Once logged in, fill in your company info in the Reseller Information section then click on Save Data. Please click on Save Data even if the information is correct!
Optionally update your Invoicing information and click on Save Data.
That's it, we'll review the information and publish you automatically on our website.
All the resellers that are approved and listed on our portal will have their discount increased from 20% to 30%.
If you have any questions or suggestions feel free to let us know.