We've updated an article from our Knowledgebase, that explains why we haven't created a PDF reader/viewer and it also includes a list of 25+ existing PDF readers you can use: List of free PDF viewers (readers)
---
novaPDF is a PDF creator, meaning it converts any printable document to PDF files. However, it does not include a PDF reader/viewer. We have over 17 years of experience in developing PDF tools. We could have created a PDF reader, however our analysis showed that it wouldn't have been in the benefit of our users, for multiple reasons:
We are very thorough in our development process, so creating a new free PDF viewer from scratch would be a resource-consuming task. We prefer to focus resources onto improving novaPDF.
There are well over 25 free PDF readers out there for all main OS platforms (Windows, Mac, Linux), the main 3 of them with over 90% market share. There are also several online PDF viewers available, not to mention that the most popular web browsers are able to open PDF files too (i.e. Chrome, Firefox, Edge)
We have not received requests from our users to create a PDF viewer.
If you are viewing/opening PDFs occasionally, our recommendation is to configure your web browser to open PDF files by default or use the online Google Docs Viewer. All major browsers have an integrated PDF viewer: Google Chrome, Mozilla Firefox, Microsoft Edge.
However, if you open PDFs often, you should use a desktop PDF viewer and Adobe Acrobat Reader or Sumatra PDF are our recommendations.
After novaPDF creates a PDF, by default it will "ask" the system to open it in using your default PDF viewer. However, you can change its settings to open the PDF with any other application that has support for it.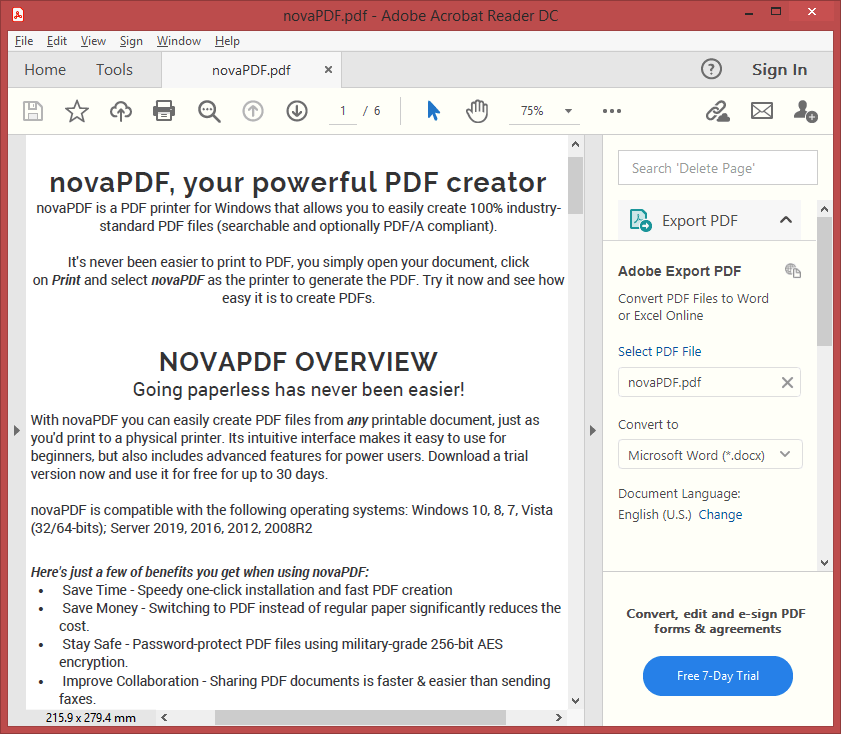 This is a summary of the full article we've recently posted. For a full list of free PDF readers, read the full article in our Knowledgebase: List of free PDF viewers (readers)