[EXPIRED] Valentine's Day sale: Pay for 1 license and receive 2 instead (1+1 free)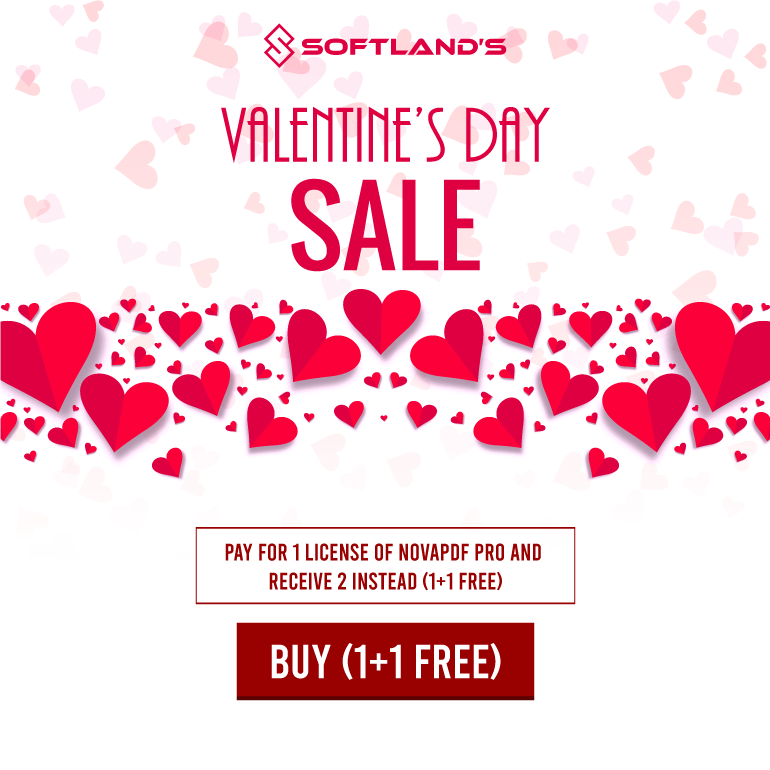 Starting today we run a special Valentine's Day promotion for novaPDF users: pay for 1 license and receive 2 instead. This promotion is valid until February 15th, 2023.
---
novaPDF Professional: 1+1 FREE
Instead of paying $93 for 2 licenses, you pay only $46. Here's how you can pay for 1 license of novaPDF Professional and get 2 licenses instead:
Click on the following link to pay for one novaPDF Professional license: novaPDF Professional (1+1 free)
The discount will be applied automatically, all you have to do is enter your billing details and pay to finalize the order. You will receive 2 licenses instead of just 1.
* VAT/Sales Tax might be added
Details regarding this special Valentine's Day promotion:
Promotion is valid until February 15th, 2023– orders after that date will have the full price so HURRY before you miss this deal
Be sure to share this deal with friends, they'll appreciate the tip if they're looking for an excellent backup software.
---
Backup4all Professional: 50% discount
We also develop another successful software, Backup4all. It is an excellent backup software which can back up to local or external drives, to the network, FTP servers and 45 cloud destinations. It was deployed by NASA on the International Space Station to back up data from the laptops of the crew.
To thank you for reading our blog, we'd like to offer a 50% discount for 1 license of Backup4all Professional 9. Just follow this link to order it and pay only $25 per license (instead of the full price of $50): Backup4all Professional (50% off)
---
Why choose novaPDF?
If you've just heard about novaPDF, here's a few features that should help you decide to use it (if the steep discount hasn't!):
Universal Printing. Using novaPDF you convert to PDF any type of printable document (i.e. DOCX, XLSX, PPTX, PUBX, HTML, TXT,…), accessing its functionality through a printer driver interface.
If novaPDF is installed you can simply click the "Print" button from any document-related Windows app to have your PDF created. You can also use novaPDF's Getting Started interface.
Add-ins for Microsoft® Office. novaPDF comes with add-ins for Microsoft Office applications (Word, Excel, PowerPoint, Publisher, Visio) that allows one-click conversion to PDF. A major advantage of the add-ins is the conversion of hidden hyperlinks and easy conversion of bookmarks.
Digital Signatures. If you have a digital signature you can sign your PDF documents thus certifying the authenticity and integrity of the PDF document for the recipient. PDF files can be edited thus it's recommended to sign important PDF documents such as invoices, contracts, agreements to be sure the document hasn't been altered without authorization.
Merge PDF Files. PDF merging refers to adding pages before the content of an existing file (inserting) or adding pages after the content of an existing PDF file (appending). You can also merge multiple documents from different sources in a single one, so this option is useful when you need to "stich" together documents from different sources.
PDF Watermarks. You can stamp an entire PDF (or individual pages from it) with an image or text that can have rotation, opacity, color variation or other effects. Multiple watermark templates are included (i.e. confidential, date/time, draft, page index/count) but you can also define your own presets.
… and many more other features. You can see a full list here: novaPDF Features.