novaPDF listed on Shopee (Taiwan)
We're happy to announce that novaPDF was listed on Shopee, the largest e-commerce platform in Southeast Asia.
"Shopee is a Singaporean multinational technology company which focuses mainly on e-commerce.

As of 2021, it is widely considered as the largest e-commerce platform in Southeast Asia with 343 million monthly visitors, and the company also serves consumers and sellers throughout in several countries across the Americas and Europe who wish to purchase and sell their goods online."

Wikipedia
novaPDF was listed there with the help of one of our Taiwanese resellers, WL.Event. They have a shop on Shopee.tw and added our products after becoming an authorized reseller. If you're from Taiwan and would like to buy from a local reseller, you can use the Shopee listing to purchase from our Taiwanese reseller – the advantage is you'll see the product page/description in your language and get a local invoice. Our language skills don't go as far as understanding Asian languages, but we can admire the effort put to create a page like this (i.e. novaPDF product page in Taiwan):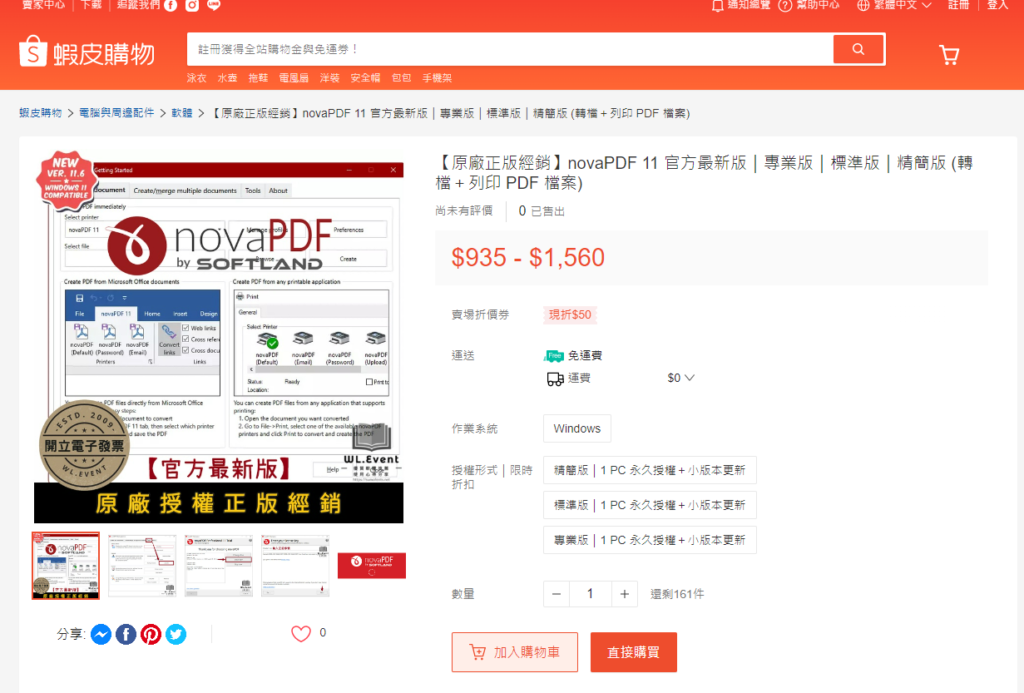 You can view the listing in Chinese Traditional here (if you speak the language): novaPDF on Shopee.tw
We currently have 4 authorized resellers in Taiwan and more than 100 in total listed on our dedicated Reseller portal: Authorized novaPDF Resellers.
---
Want to become an authorized reseller of novaPDF?
There's always place for more resellers! If you want to be listed as an official reseller on our portal, here's what you need to do:
Go to our reseller signup page and create an account: https://www.novapdf.com/sign-up.html?type=reseller
After you've created your account simply login, fill in your company info in the Reseller Information section and then click on Save Data.
That's it, we'll review if the information is correct and publish it on our website.
All the resellers that are approved and listed on our portal will have their discount increased from 20% to 30%.
If you have any questions or suggestions feel free to let us know.