[Expired] Giveaway: Glary Utilities Pro 2012
Update: The giveaway is now over and these are the 10 lucky winners:
Scott Sheets
Juan Cortes
Paf Borg
Jeff Dell
Metin Akel
Arif Uluca
Vic Limbo
Murat Bahadir
Richard Hahn
Velit Aysever
We've sent them an email, if you're on that list feel free to contact us at [email protected] if you haven't received news from us (spam filters do that sometime).
Update 2: Since 2 of the original winners didn't answer (it's been more than 30 days), we're sending those licenses to the following reserves: Sami Guzelyurt and Cevdet Bayar.
Recently we organized a giveaway for the Backup4all blog readers, where the winners can get 5 licenses of Avira Antivirus Pro. Its popularity convinced us to organize a similar giveaway for the novaPDF blog readers too, so we reached out to Glarysoft and we're happy to announce that we have 10 licenses of Glary Utilities Pro 2012 to be given away. The freeware version of this program seems to be the #1 choice for all-in-one system utilities, judging by the fact that it has over 33 million downloads on CNET and shows up as no. 1 in that category for a long time now. Their Pro version, the one we're giving away now, is even better, so if you want to spare $30 and still clean your computer join this giveaway.
Details about this giveaway:
The winners will have the same benefits as a regular paying customer of Glary Utilities
These are lifetime licenses (no yearly fees)
There are no restrictions at all to participate, anyone can sign-up for this giveaway
The giveaway begins now and ends one week from now, on Thursday the 17th 2012
The winners will be randomly selected and contacted via email
You can join this giveaway by using the widget below (sign-up using Facebook or by entering your email address). After you join this giveaway you will receive 1 entry, but you can increase the number of entries by performing additional actions:
What is Glary Utilities Pro
It's a suite of small utilities that let you perform several actions: clean-up and repair (disk cleaner, registry cleaner, uninstall manager), optimize and improve (manage start-up programs, optimize memory and registry), secure and protect privacy (erase tracks, undelete files, encrypt/decrypt files), manage files/folders (analyze disk, find duplicate files, remove empty folders) and start system tools.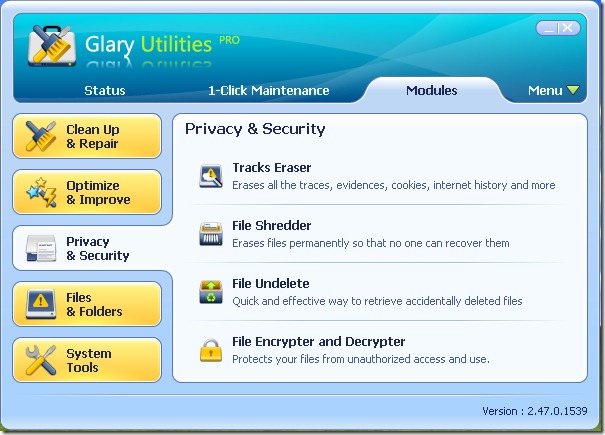 The best part about all of this is the fact that you get access to a 1-click maintenance window. Basically this will automatically run the most important clean-up tasks, by simply pressing a button. Sure, there's always going to be that question, is it really worth optimizing your registry or free up memory, but in the end it's just pushing a button. If the guys in Lost did push a button without asking much and everything went well while they did it, what wrong could it be doing the same to your system. So mentally type 4, 8, 15, 16, 23, 42 and press the Repair Problems button, just as I did below: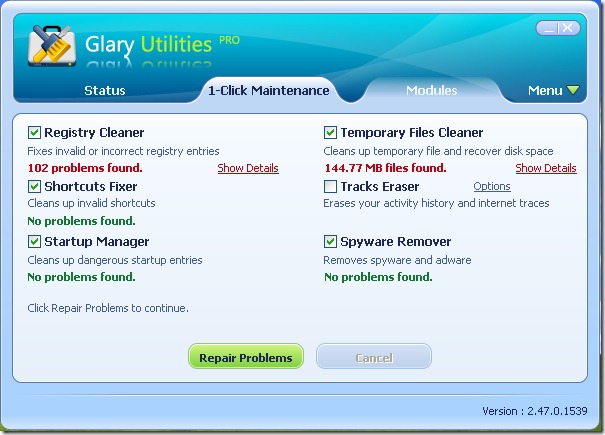 Questions or suggestions about this giveaway? Feel free to share them in the comments below and don't forget to participate if you want to be one of the winners. Good luck everyone!