novaPDF 8.8 is available, with new Macros for names
novaPDF 8.8 is now available. The latest version adds several new Macros for names as well as proxy support for activation and several other updates. You can download the latest version here: Download novaPDF 8.8.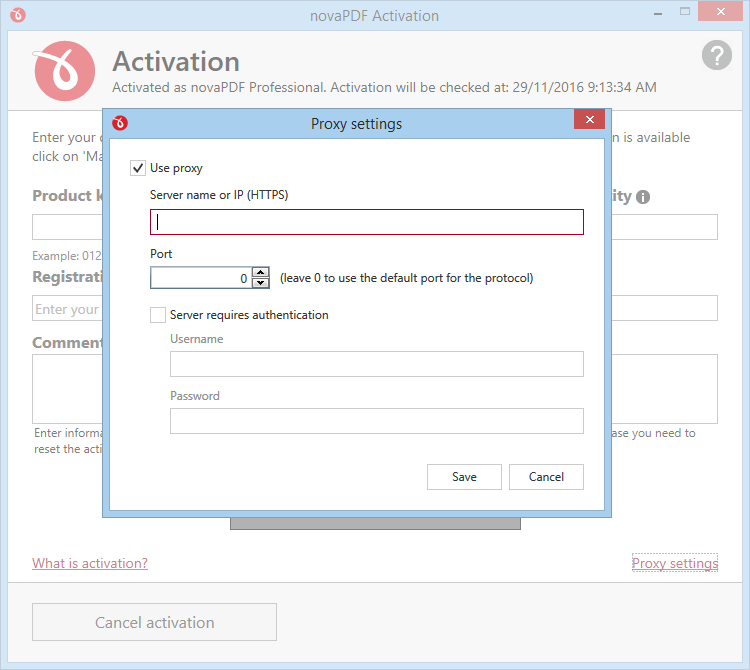 Here's an overview on what is new/updated in 8.8:
New: Added macros for Application name, Printer name, Profile name, PDF file name
New: You can now configure a proxy server for activation
Fix: Bug when using specific special characters in the PDF save file name
Fix: Restoring the default active printer when using the add-in for Microsoft Word
Fix: Error when the printer name was longer then 30 chars
Fix: Importing profile from a network path failed
Fix: Various fixes for Profile Manager interface
This version update is free for all users that have an existing valid license of novaPDF 8.x.
However, this version is not free for users of previous versions of novaPDF (1.x – 7.x). If you own a previous version and want to test novaPDF 8.8, you can install a 30 day free trial here: Download novaPDF 8.9.
NOTE: novaPDF version 6.x and 5.x are no longer supported. If you are still using one of these older versions we highly recommend an upgrade to version 8. This will ensure you get the latest updates and email support. Furthermore, novaPDF 7.x (and previous) has not been tested on Windows 10 so we cannot guarantee full compatibility. If you plan to use Windows 10 you should upgrade to the latest version of novaPDF.
When you're ready to make the switch purchase an upgrade. Prices for upgrades vary depending on what license you currently own, but you can quickly check the pricing by entering your key here: Upgrade novaPDF
Holiday Discount
We wish you and your family a Merry Christmas and a prosperous New Year! As 2016 comes to a close, we would like to take this opportunity to say THANK YOU for your business and support over the years.
Starting today we run a special holiday promotion for novaPDF users, where you will receive a 10% discount for any orders placed until January 4, 2017. To receive the discount simply use the following coupon code on the checkout page: CHRMN167a
Please note that our offices will be closed between December 26th and January 3rd. Only urgent support emails will be answered during this period.