novaPDF 11.8, with new Outlook email option
novaPDF v11.8 is now available. Version 11.8 adds a new "Save to Drafts and Open" Outlook email option, as well as new macro for server name, better printing management and more. You can download the new version here: Download novaPDF.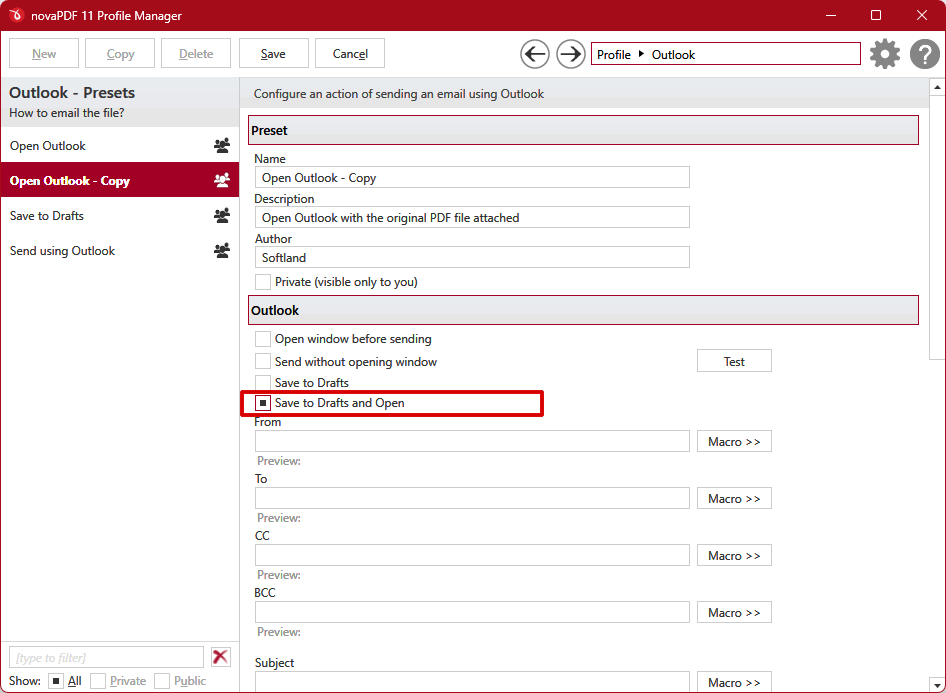 Here's a list of what's new and improved in novaPDF v11.8:
Added: Save to Drafts and Open Outlook email option. Until now, you could've selected either Save to Drafts or Open as 2 distinct actions, now this option combines both.
Added: Macro for server computer name to use in various fields. This is the computer name where the novaPDF printer is installed.
Updated: Document printing management improved. There's a lot of tech details behind, but basically print queue timeouts were reduced so now the queue should be freed faster.
Fixed: Windows driver restrictions check for setup
Fixed: Missing field when importing printers from novaPDF 10
Fixed: Cancel jobs re-added by spooler after service restart
We highly recommend the update, and you can download it from our site: novaPDF 11.8
This version update is free for all users that have an existing valid license of novaPDF 11.x.
---
Old version notice
novaPDF 11.8 is not free for users of previous versions of novaPDF (1.x – 10.x).
Notice to previous versions users (novaPDF 1.x – 10.x): novaPDF 11.8 will be installed separately and allows you to test it before deciding to buy the upgrade. To upgrade from previous versions visit this page: Upgrade novaPDF.
---
Want to be notified when we release new versions?
If you want to be notified when we release new versions, run giveaways or have special promotions, you can either sign-up for our newsletter or via our social channels:
As always, we encourage feedback so if you want to share with us your opinion regarding this new release feel free to add your comment.