novaPDF 11.4 is now available, with new duplex print option
novaPDF v11.4
is now available. This version includes several important updates thus
we highly recommend the upgrade
. Version 11.4 adds a new duplex print option, a new type of licensing, new license management feature and more. You can download the new version here:
Download novaPDF
.
What's new in novaPDF 11.4:
Duplex printing options
. novaPDF 11.4 now has a new option that allows it to include information in the resulting PDF on how the physical printer will handle printing on both sides of paper. This is called Duplex printing. Older versions of novaPDF didn't have an option to manually select the Duplex printing options. With version 11.4 you can tell it now to print the content on one side, print on both sides or simply use the printing options.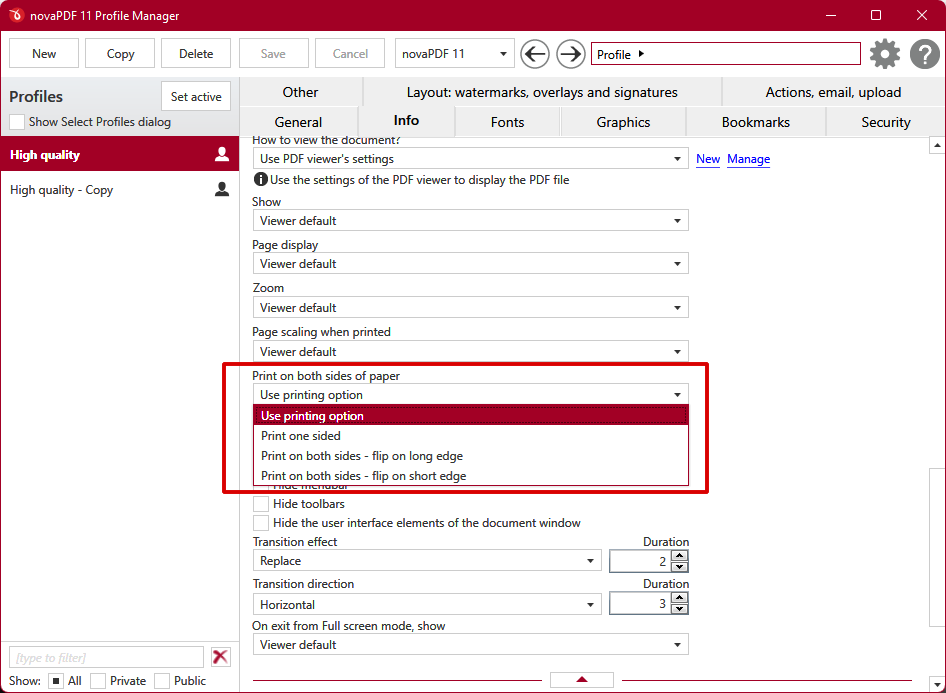 Permanent licenses.
We've introduced a new type of licensing targeted mainly for computers that don't have an active internet connection. By default, all types of activated licenses need to be re-activated periodically to ensure the license is still valid.  The process is automatic and doesn't require user intervention if an active Internet connection is available. However, if the computer doesn't have an active internet connection during re-activation, you'd need to manually re-activate the license. Starting with v11.4, there's now a way to choose how the re-activation can be done. If you choose not to do the reactivation at all (assuming the computer is off the grid), you can switch your license to a Permanent one. This means no future reactivations will be done, but your license will start having some limitations: you won't be able to move the license to another computer, reset it, request a refund for it or upgrade it.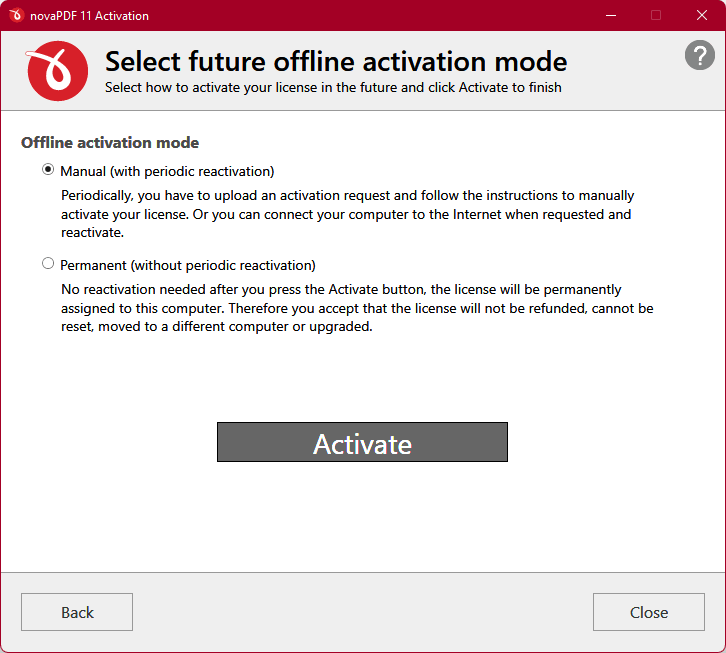 Here's a full list of what's new and improved in novaPDF v11.4:
Added: Duplex options that can be configured manually and included in the PDF
Added: Permanent licenses with limitations that do not require re-activation
Added: Turkish translation for the user interface
Added: Delete license functionality in Printer Manager
Updated: Detect restrictions for PrintNightmare and show warning message
Updated: License activation mechanism
Updated: Unlicense depending on computer usage
Fixed: Activation expire warning message
Fixed: Overwrite warning message when merging PDF files
Fixed: Issues when printing a file created by Foxit PhantomPDF with non-Unicode fonts
Fixed: Document info when merging a file with an existing PDF replaced with what was configured in profile
Fixed: Use 64-bit version of email client if the 32 bit cannot be started
We highly recommend the update, and you can download it from our site:
novaPDF 11.4
This version update is free for all users that have an existing valid license of novaPDF 11.x.
However, this version is not free for users of previous versions of novaPDF (1.x – 10.x).
Furthermore, only novaPDF 11.x has been tested and is fully compatible with Windows 11. We cannot guarantee that older versions (i.e. 10.x or older) are still compatible with Windows 11
, and those aren't actively developed anymore. We highly recommend upgrading to the latest version to be sure it will continue to run even after you migrate to Windows 11. Notice to previous versions users (novaPDF 10.x or older): novaPDF 11.4 will be installed separately and allows you to import the options from the previous version.
To upgrade visit this page:
Upgrade novaPDF
.