novaPDF 11.2 released, with new digital signature timestamp option
We have released a new minor update, novaPDF 11.2. This update introduces a new digital signature timestamp option when signing PDF files, predefined timestamp servers, updates for TLS and some other fixes. You can download it here: Download novaPDF.
What's new in novaPDF 11.2:
Certified digital signature timestamps (PRO). Digital timestamps can include in a PDF signature the time and date when it was signed. The timestamp will show when the PDF will be opened in the PDF reader, and offers a proof of integrity that the contents of the PDF document existed at a point in time and are unchanged. Starting with novaPDF v11.2 (PRO) you can use timestamps for digital signatures.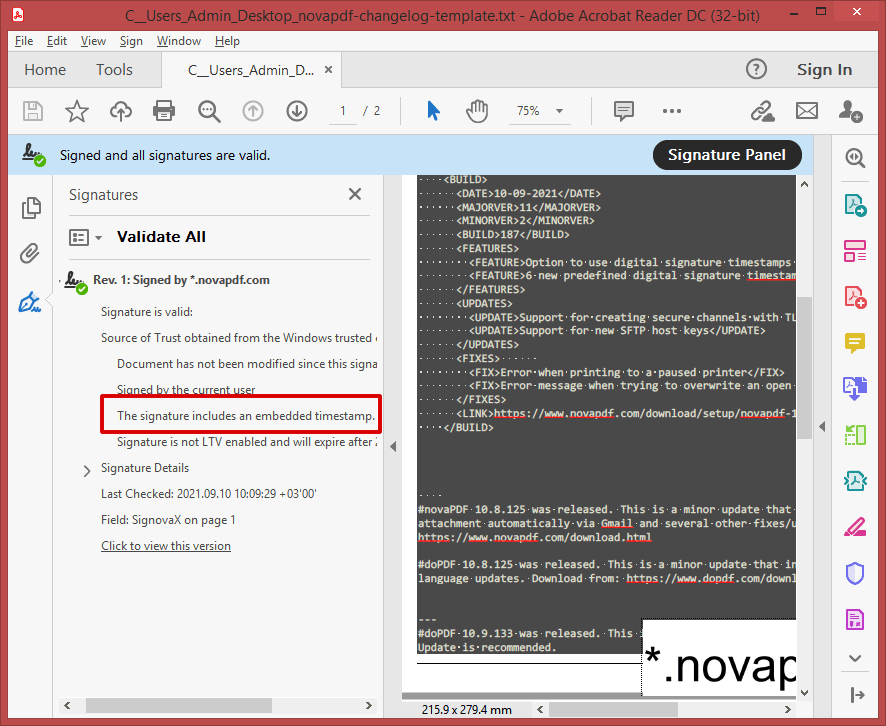 NOTE: You can use timestamps only for local file certificates, not for certificates that are stored on a server. This limitation is due to the fact that novaPDF cannot access a live URL from the server location as it runs in a sort of "embedded" mode.
Predefined timestamp servers. For added security, you can include a timestamp from an independent trusted authority to certify the digital signature of your PDF file. Starting with v11.2 you can use a timestamp server for digital signatures either by using your own URL, or use one of the included predefined ones. Using a timestamp server ensures that the timestamp is precise and secure, since the system clock could be modified by a user.
Right now you can choose one of these Predefined timestamp servers:
Digicert: http://timestamp.digicert.com/
Entrust: http://timestamp.entrust.net/TSS/RFC3161sha2TS
GlobalSign: http://aatl-timestamp.globalsign.com/tsa/aohfewat2389535fnasgnlg5m23
IDnomic: http://kstamp.keynectis.com/KSign/
Sectigo: https://timestamp.sectigo.com/
Swisssign: http://tsa.swisssign.net/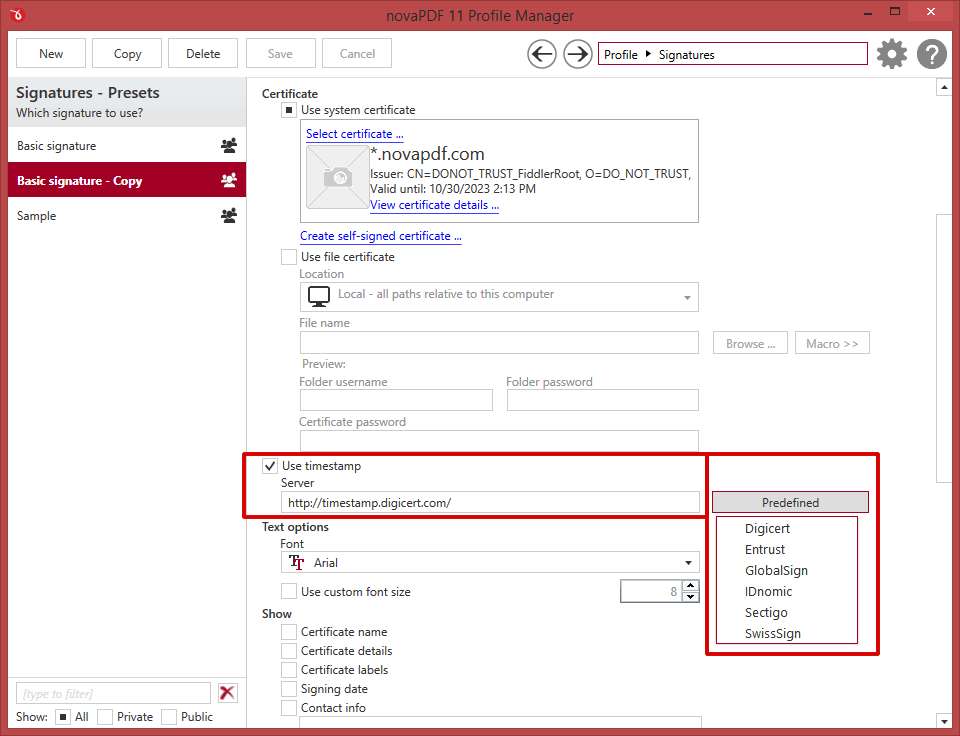 Other updates & fixes. The new version also includes support for creating secure channels with TLS v1.3 for SMTP connections (previous version was 1.2), new SFTP host keys when uploading PDFs and a few specific fixes (error when printing to a paused printer and when trying to overwrite an open PDF).
We highly recommend the update, and you can download it from our site: novaPDF 11.2
Notice to previous versions users (novaPDF 1.x – 10.x): novaPDF 11.2 will be installed separately and allows you to test it before deciding to buy the upgrade.
To upgrade from previous versions visit this page: Upgrade novaPDF.